Robert Limkeman, MA, LMFTA
Counselor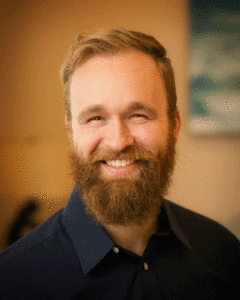 Many people find their present marked by loss, insecurity, loneliness, painful memories, or strained relationships. Robert's greatest desire in his clinical work is to help clients cultivate hope and find healing from their grief and hurt.
As a Licensed Marriage & Family Therapist Associate (LMFTA), Robert fosters a collaborative, honest, and safe space for individuals, couples, & families wrestling with a variety of issues including:
• Depression & anxiety
• Trauma & abuse
• Grief & loss
• Relationship strife
• Identity & meaning formation
• Sexuality & pornography
• Spiritual distress & adversity
Robert completed his MA of Psychology from California Southern University and his BA of Psychology from Westmont College.
Robert's ideal weekend includes singing & dancing in the car on the way to a National Park with his wife and two kids. He loves listening to music, podcasts, audiobooks, nature, and the laughter of his family and friends.